INOX is far more than door locks
Additional design and functionality options that pair well with a door's trim, including custom finish options to maximize your design sense.
LTIX & NUIX
Letters and Numbers
Cast stainless steel numbers and letters available in face fixing or concealed fixing options with standard and custom finishes.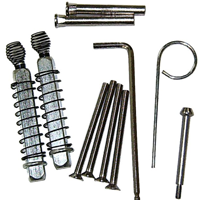 TDK
Thick Door Kits
Includes 2", 2-1/4", 2-1/2", 2-3/4", and 3" door thickness options.