Enhancing Healthcare Space, Privacy, and Safety
INOX develops sliding door lock innovations that enable healthcare facility planners to create welcoming, mindful environments that meet the safety and physical security requirements of modern clinical practices. INOX locks empower beautifully designed spaces that contribute to the quality of care and enhance patient experience with wider access points, open-concept spaces, and streamlined paths of travel. Our wide range of product offerings and commitment to quality provide durability and performance you can depend on to meet specific HIPAA and UL safety and security needs.
Design Trend Alert
Increased emphasis on patient state of mind encourages healthcare professionals to make design aesthetics a new priority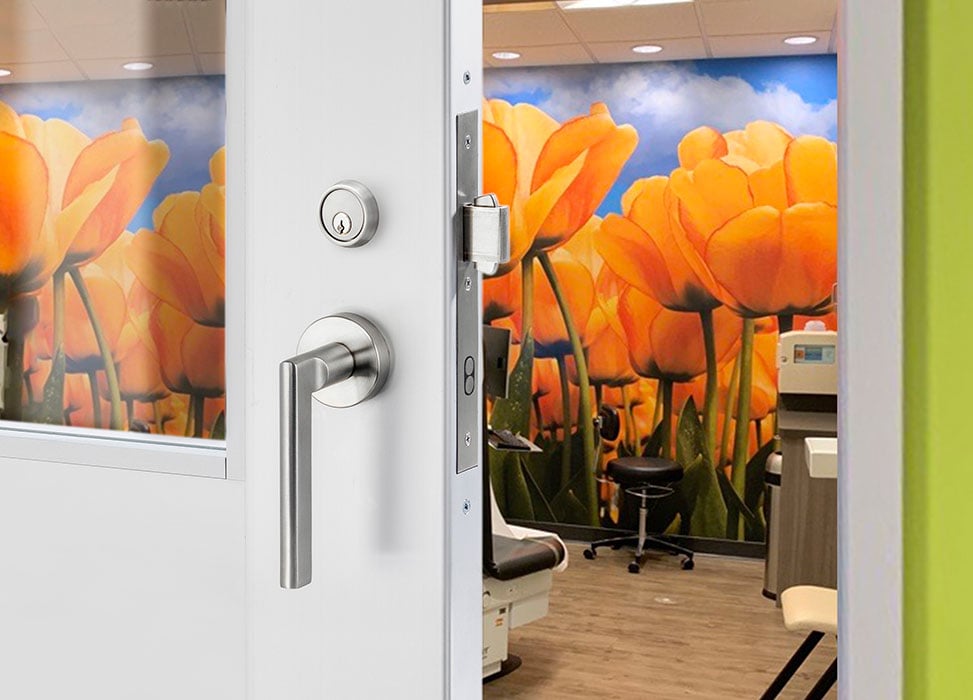 Biophilic Design
Studies find that providing patients with authentic connections to nature assists the healing process1. Adopting principles of biophilic design improves patient outcomes and reduce staff stress.
Use natural construction materials with lines and textures that people can see and touch2.
Use curvilinear organic shapes that avoid right angles to facilitate ecotherapy and the benefits time spent in nature has on reducing stress, anxiety, and depression3.
Break away from the institutional look with nature-inspired curves and colors. INOX commercial strength locks for swing and sliding doors are offered in 30 designer lever styles and 36 different visual and tactile finish options.
[1]View through a window may influence recovery, Dr. Roger Ulrich, 1984, Science 224, 42
[2] How Biophilic Design Impacts Wellness, Gary McNay, AIA, LEED AP BD+C, ILFI, November 2019
[3] Stanford researchers find mental health prescription: Nature, ROB JORDAN, Stanford News, June 30, 2015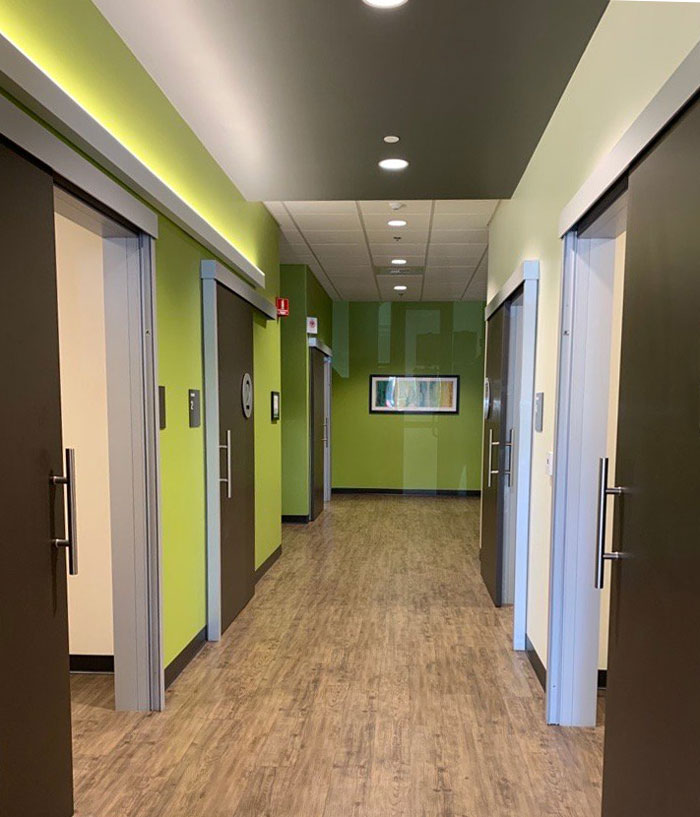 Open Floor Planning
Studies find that hybrid floor plans conducive to controlling patient privacy in ways that still feel open and multi-use results in improved outcomes4. Space-saving options like sliding doors can provide wider openings and transparent or semi-transparent door materials can create an open feeling capable of limiting sound and airborne particulate leakage.
Use sliding doors in place of swing doors to reclaim an additional 30 square feet of usable room5 in addition to wider access ways for equipment and streamlined paths of travel.
Use glass or semi-transparent door materials that allow people to see beyond their immediate surroundings to gain the wellness benefits of an open floor plans' feelings of connection, collaboration, and happiness6 while controlling potential distractions and infection7.
Streamlined and minimal design options are revolutionizing healthcare facility layouts. INOX PD96 series sliding door locks are capable of all ANSI/BHMA functions. PD97 family of locks can be applied with glass patch door options and PD3000 offers narrow stile options for ICUs.
[5] Optimize space as part of your facility plan, Thomas M. Grove, AIA, Healthcare Design, November 2003
[6] Long Live Privacy in Healthcare Facilities & Schools, Tysen Gannon, LEED AP, Facility Management, 2021
[7] Effects of office workstation type on physical activity and stress, Lindberg CM, Srinivasan K, Gilligan B, et al, Occupational and Environmental Medicine 2018;75:689-695.
[8] Is an Open Office Floor Plan Right for Your Company?, Erin Coleman, R.D., L.D., United Concordia Dental, December 2019
Security and Safety Trend Alert
Remote and hybrid workforces, as well as unprecedented safety risks like COVID-19, radically expand the scope and responsibilities of any organization's security model.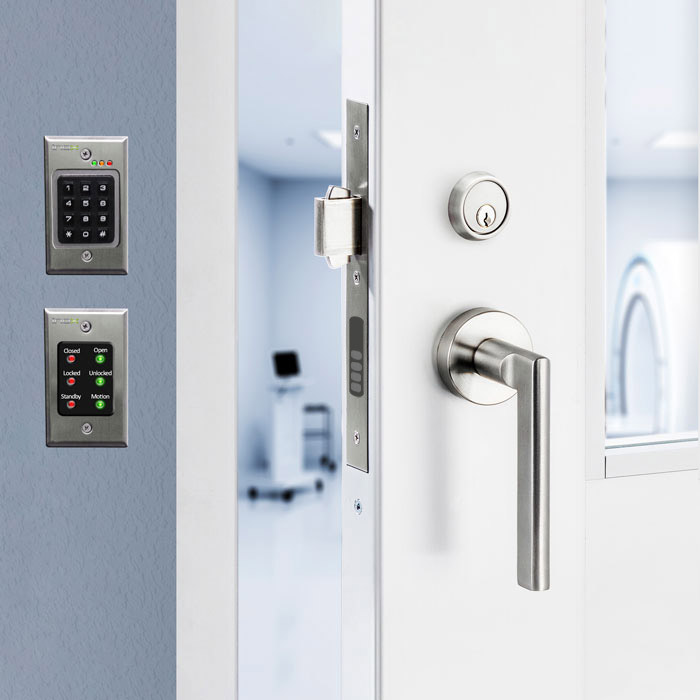 Touchless Locking and Autolocking
Studies show that "touchless" access control components are driving investment in access control[1]. Secondary concerns are compatibility and ease of integration to existing systems[2].
Use electrified mortise locks for sliding and swing doors with an adjustable delay to accommodate different auto openers timing.
Consider electrified lock options that incorporate the power transfer in the contact with the strike to eliminate the need for drilling channels in a door or additional accessories like electrified hinges.
Upgrade components rather than your entire access control system to get the latest electronic advancements. INOX PD97PT and PD97ES offer easy installation and touchless capabilities.
[1] How access control technology is being used in the pandemic, Paul Baratta, Special to Healthcare Facilities Today, June 2020
[2] The 2021 State of Physical Access Control, Luc Merredew, Door Security + Safety, October 2021
Sliding Door Lock Options
Mechanical
Electrified
PD3000
PD95
PD96
PD97
PD97PT
PD97ATL
PD97ES
Enabled for Touchless Opening1

Self-latching (Auto-latching)

Auto-locking

ANSI/BHMA A156.25

UL1784 Air Leakage Test for Draft, Smoke, and Sound Control Door Assembly

UL1034 Burglary Resistant Electric Locking Mechanism

UL294 Safety and Security for Access Control System Units

Built-in Power Transfer within Lockset

Outside Lever Rigid

Outside Lever Active

Surface Pull Option
The PD97 Family of Electrified Mortise Sliding Door Locks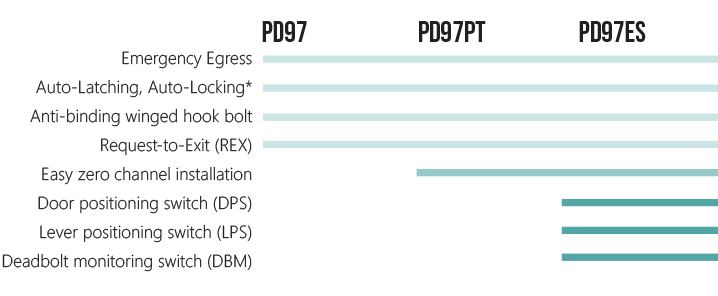 The INOX PD97 Series offers a wide range of electrified access control, security, and operation features, including:
Touchless Locking and Unlocking
Self Latching/Auto Locking
Access Control System Integration for Access Administration
Multiple Sensor and Power Transfer Configurations
PD97 Electrified Sliding Door Mortise Lock
Overhead Power Transfer for Security Sensitive applications
Ideal for use in patient rooms and medical offices serving at-risk and high security situations
Meets ANSI/BHMA functions for Privacy, Entry/Office, Patio/Exit, and Classroom
UL1034 Certified

Latch Retracted When Open
The sensor-controlled motor signals lock to mechanically engage or retract latchbolt using an advanced stepper motor for ultra-quiet operation.

Power Transfer
Power supplied through connectors at top of door and jamb; when door is closed, connectors link to supply power
PD97PT Electrified Mortise Lock with Built-in Power Transfer
All-in-one Easy Installation Solution for Touchless Locking and Unlocking
Great for use in ICU rooms, waiting areas, and patient rooms
Available ANSI/BHMA functions include Entry, Office, Privacy, Patio/Exit, and Classroom
Power transfer occurs on contact between strike and lock, eliminating cross-drilling door during installation
Self-latching function meets UL1784 standard for rooms with controlled substances

Cast Stainless Steel Strength
Patented design uses an actuator to activate the latchbolt, eliminating impact and friction to the mechanism.

Narrow profile lock built specifically to stand up to the high durability and traffic requirements of healthcare facilities
PD97ATL Electrified Mortise Lock with Auto-Locking
Grade 1 Sliding Door Lock that easily integrates with access control systems
Great for use in ICU rooms, waiting areas, and patient rooms
Available ANSI/BHMA functions include Entry/Office, Patio/Exit, Storeroom, and Passage
Built-in DPS and DBM sensors enable auto-locking function
Supports touchless opening solutions when paired with an auto-operator

Powered Directly to Lock from Strike
The Power Transfer unit, as with the PD97PT and the PD97ES, powers the lock directly through the strike for easier installation.
Low voltage for safety, and the lock is Fail Secure in case power goes out while door is locked.
PD97ES Electrified Auto-latching Mortise Lock with Monitoring Switches
Integrates with Access Control Systems and Monitoring Terminals
Comprehensive locking solutions for use in ICU rooms, waiting areas, and patient rooms
Available ANSI/BHMA functions include Entry/Office, Storeroom, and Patio/Exit
Fail Neutral feature ensures a locked door will remain mechanically locked if power is lost
Quick, easy action of inside lever allows emergency egress
Outside lever remains rigid; surface pull options available


Auto-latching and Auto-locking
Functions with deadbolt monitoring request to exit (REX) and sensor to protect all access points
Enhanced safety and security monitoring of open/closed positions and locked/unlocked status with door positioning switch (DPS), and deadbolt monitoring switch (DBM)
1. Door Bolt Monitor (DBM)
2. Door Position Switch (DPS)
3. Return to Exit (REX)
4. Power Transfer contacts
PD3000 Narrow Backset Self-Latching Lock
Heavy-Duty Durability with Emergency Egress
Passage function
Self-latching, when sliding door is closed, bolt is automatically engaged into the strike
Easily retrofits into existing narrow profile ICU doors

Cast Stainless Steel Strength
Patented design uses an actuator to activate latchbolt, eliminating impact and friction to the mechanism

Narrow profile lock built specifically to stand up to high durability and traffic requirements of healthcare facilities
PD95 Sliding Door Mortise Lock
Single-action Deadbolt Release for Emergency Egress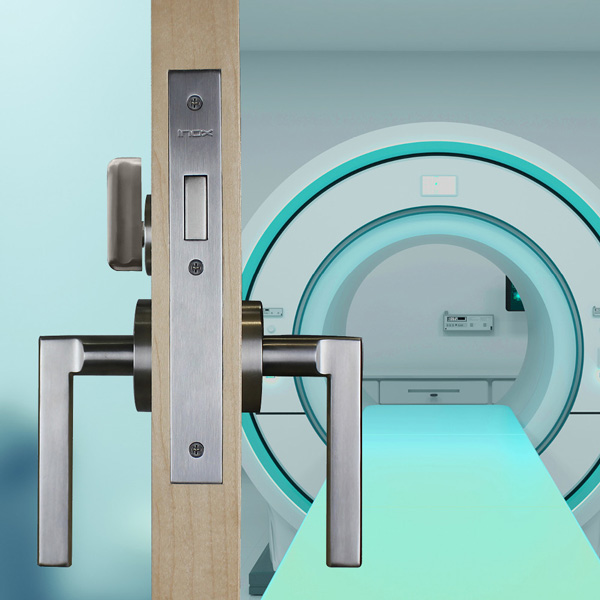 Designed for use in records rooms, exam rooms, medical offices
Available ANSI/BHMA functions include Entry, Office, Privacy, and Classroom
Standard and IC core interchangeable keying options
Lead lining available

Latching and Locking
Patented anti-binding winged hook bolt provides smooth operation for safety and security
PD96 Self-Latching, Auto-Locking Mortise Lock
Capable of All Major Commercial Functions Available with Swing Door Locks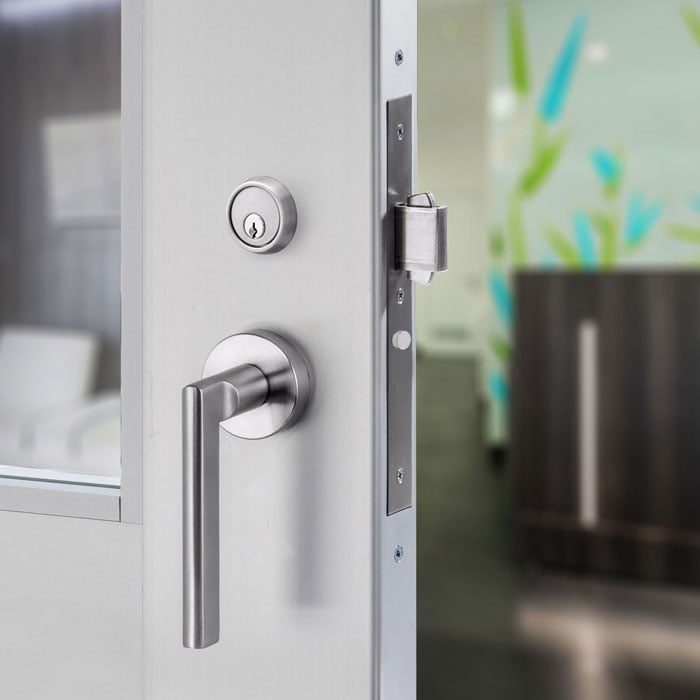 Multiple functions for use in exam rooms, ICU, patient rooms, medical offices, storerooms and utility closets
ANSI/BHMA functions include passage, privacy, entry/office, classroom, and storeroom
Self-latching and Auto-locking security

Latch Retracted When Open
Eliminates catching on people and equipment that move through the doorway

Auto-locking
When door closes, bolt is automatically engaged into the strike. Outside lever is in locked position so door is locked; a key is required to unlock outside lever and the outside lever can then unlock the bolt