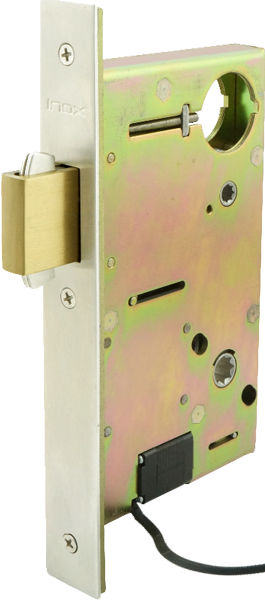 PD97
Electrified Mortise Lock with Overhead Power Transfer
Grade 1 electrified sliding door mortise lock designed specifically for openings in high tamper situations. Integrates with most access control products including keypads and biometric readers
Features
The INOX PD97 is built with an advanced stepper motor inside the lockcase and a power transfer yamaka concealed at the top of the door to make this electrified mortise lock for sliding doors highly tamper resistant. The PD97 Grade 1 lock is well suited for commercial, educational, and healthcare environments working with sensitive or high-risk communities.
Meets ANSI A117.1 Accessibility (ADA Compliant)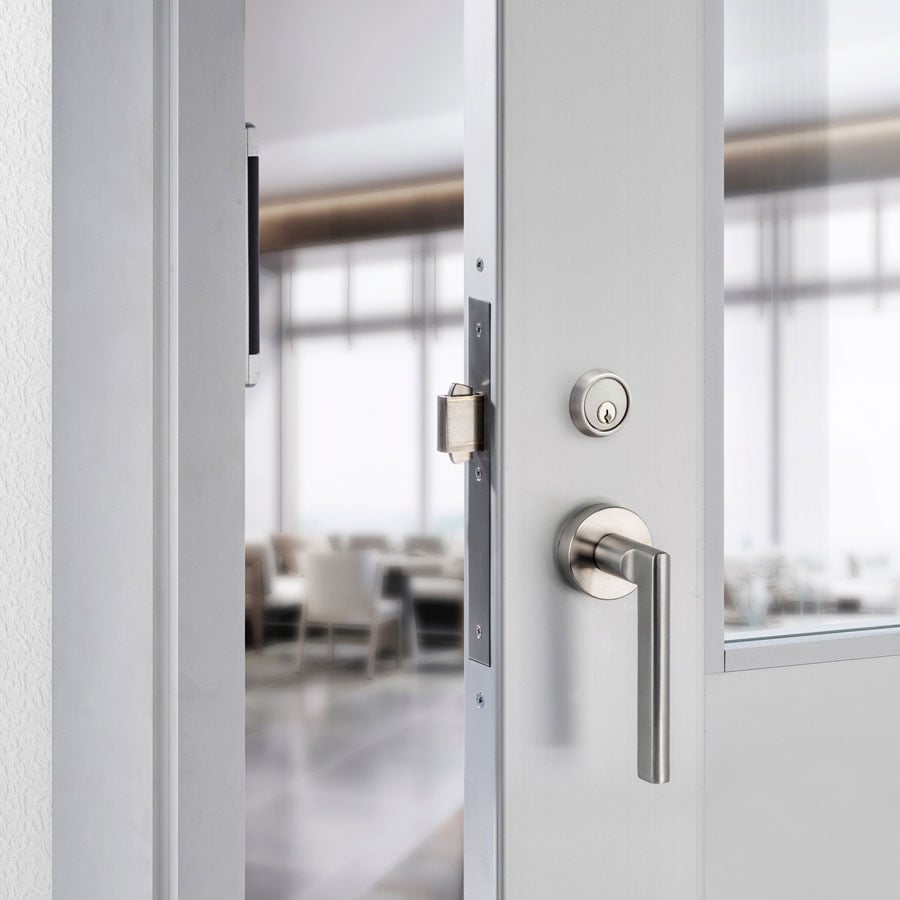 Specifications
Standard Door Thickness: 1-3/4" (45mm)
2" to 2-1/4" Thick Door Kits available
1-3/8" (35mm) Slim Door spacing ring available
Backset: 2-3/4" (70mm) and 2-1/2" (63.5mm)
Bolt: 1" (25.4mm)
Thumbturn Spindle: 5x5mm square
Lever Spindle: 8x8mm square
Case Size: 8" x 3-3/8" x 11/16" (203mm x 85.8mm x 17mm)
Lever to Cylinder Center to Center: 3-7/8" (98mm)
Lever to Thumbturn Center to Center: 2-11/16" (68mm)
Handing: Specify handing
Cylinder: Schlage C keyway 6 pin 1-1/4" mortise with 2 keys; optional SFIC and LFIC cores available
Electrical Specifications
Voltage: 12/24 DC
Compliance
ANSI A1171.1 Accessibility Code (ADA Compliant)
UL1034 Certified

Open Door
Power is supplied through connectors at top of door and jamb; connectors link when door is closed

Closed Door
When closed the yamaka power transfer connection supplies power to the lock.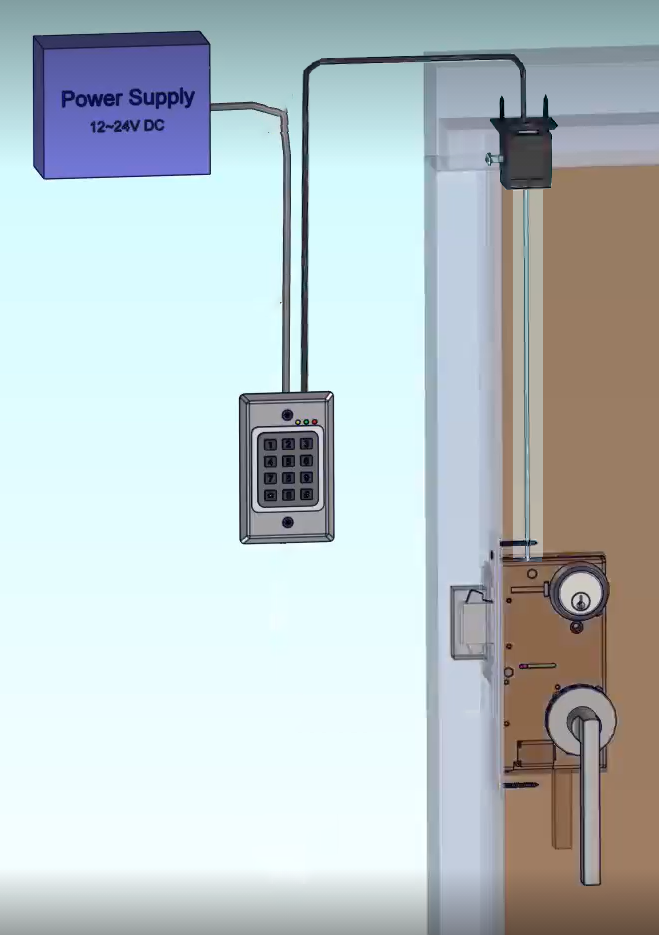 Channel through the door: When sliding door is closed, bolt is automatically engaged into strike; outside lever unlocks bolt
Power controlled by relay: When sliding door is closed, bolt is automatically engaged into strike. Outside lever is in locked position, keeping door locked from outside. Key unlocks outside lever, which then unlocks bolt so that door can be opened from outside. Always emergency egress from inside
View the PD97 in Action
The touchless locking/unlocking and access control compatability of the PD97 are available for pocket and sliding doors.
Motor-driven winged bolt

Touchless lock operation

Emergency Egress

Lock remains secure during power failure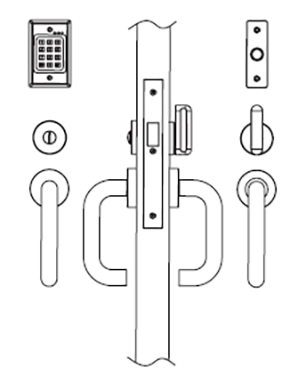 Bolt auto-latches
Door locks with inside thumbturn
Unlocks with inside lever or outside emergency release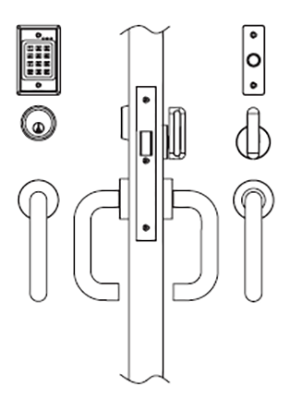 Bolt auto-latches
Outside key or inside thumb-turn locks or unlocks outside lever
Inside lever always free for emergency egress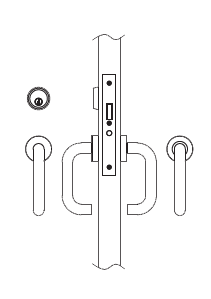 Bolt auto locks
Door locks with outside key
Unlocks with inside lever (emergency egress) or outside key
Exploded Diagram
PD97 Lockcase
XGT or XGS Rose and X Series Lever
Strike with vertical adjustment of dust box up to 1/4" (6.35mm) for easy installation
TT07 ADA Thumbturn
Bolt: 1" (25.4 mm) throw, heavy duty brass bolt
Cylinder: Schlage C key-way 6 pin mortise cylinder
Electrical wire
Available Accessories:
8. Power transfer contact
9. Key pad
10. Push button
11. Power Supply
Grade 1 cast stainless steel trim designed for mechanical strength without sacrificing beautiful design. Includes ADA-compliant options.
Surface-mounted wall strike that enables sliding and barn doors to surface latch; features an ingenious design that provides an interlocking mounting system and bracket for tamper-resistant security.
Enable your privacy functions with design options and indicator windows. ADA options available.
Accessories for convenience, contactless entry when door is unlocked, and additional power and security, all with low 12/24 DC power.

32 Bright Stainless Steel

32D Satin Stainless Steel

C19G Graphite Black

C19 CeraMax Flat Black

CDB Dark Bronze

CGY Stormy Grey

INOX PD97 - Finalist in the 2021 Healthcare Design magazine Product Innovation awards.
"This product has been on our wishlist for years. INOX has ingeniously created the solution we've been waiting for!"