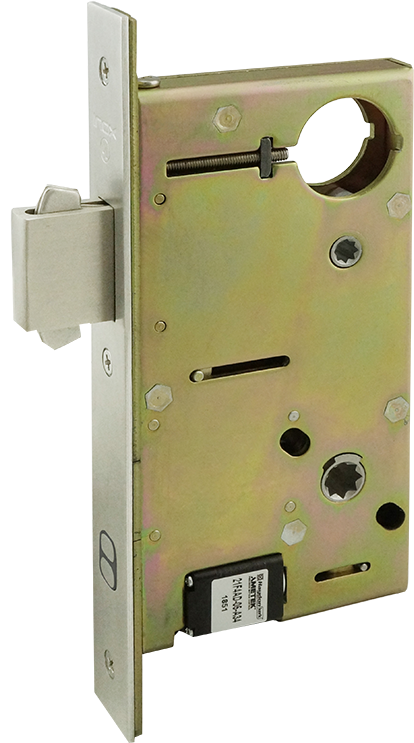 PD97ATL
Electrified Mortise Locks with Auto-Locking for Sliding Doors
Grade 1 Sliding Door Lock designed for easy integration with access control system
Features
The Grade 1 INOX PD97ATL integrates with most access control products, including keypads and biometric readers, combining smart door lock capabilities with electronic lock features to provide keyless and keyed locking and latching solutions. Built-in DPS and DBM sensors enable auto-locking and auto-latching features. Powered through strike for an easier installation than standard electric mortise locks.
Meets ANSI A117.1 Accessibility (ADA Compliant) and UL Standards for UL294 (Safety Access Control System Units) and UL1034 (Safety Burglary-Resistant Electric Locking Mechanisms) and is recommended for:
Hospitality
Healthcare
Commercial
Office
Residential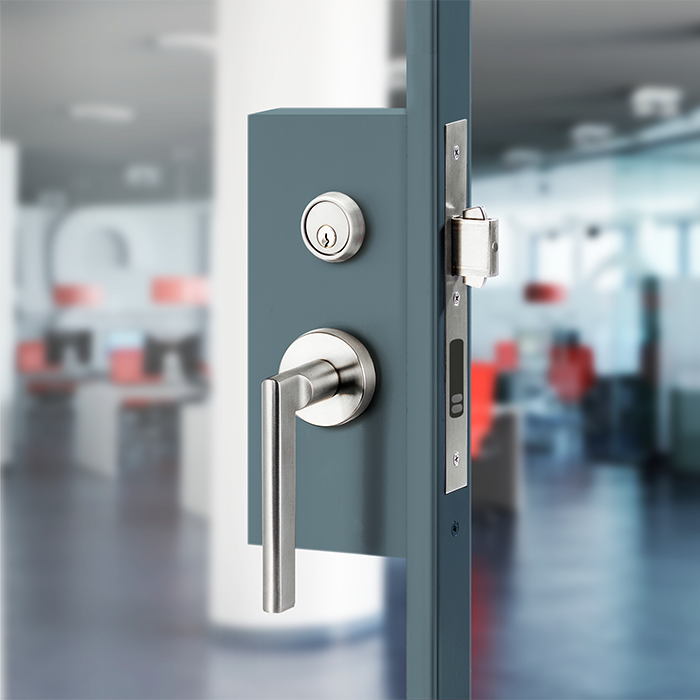 Specifications
Standard Door Thickness: 1-3/4" (45mm) Standard
1-3/8" (35mm) with Thin Door Ki - XGT rose only
2" to 2-1/4" (50mm - 57mm) Thick Door Kit available
Backset: 2-3/4" (70mm) and 2-1/2" (63.5mm)
Lever to Cylinder Center to Center: 3-7/8" (98mm)
Lever to Thumbturn Center to Center: 2-11/16" (68mm)
Lever Spindle: 8mm x 8mm square
Thumbturn Spindle: 5mm x 5mm square
Handing: Specify handing
Cylinder: Schlage C keyway 6 pin, 1-1/4" mortise cylinder with 2 keys (standard); optional SFIC and LFIC housing and cores available
CAM: CAM01-SCL Clover Cam
Electrical Specifications
Voltage: 12/24 DC
Max Current: 560mA (Lock Body), 40mA (Strike), 90mA (Keypad), 30mA (Handwave or Relay) 20mA (On/Off Switch for Handwave)
Compliance
UL1034 Burglary-Resistant Electric Locking Mechanisms
UL294 Standard for Access Control System Units
ANSI/BHMA A156.25 Electrified Mortise Locks
ANSI/BHMA A156.18 Finishes
ANSI A117.1 ADA Accessibility
Meets ANSI/BHMA Grade 1 Standards

Powered from the wall to the strike with a low 12/24 volt DC current, the Grade 1 PD97ATL makes installation easy.

When door is closed, strike connects with lock, and door auto-latches or auto-locks, based on the function installed. Fail secure; door remains locked or unlocked, whatever state it was in when power fails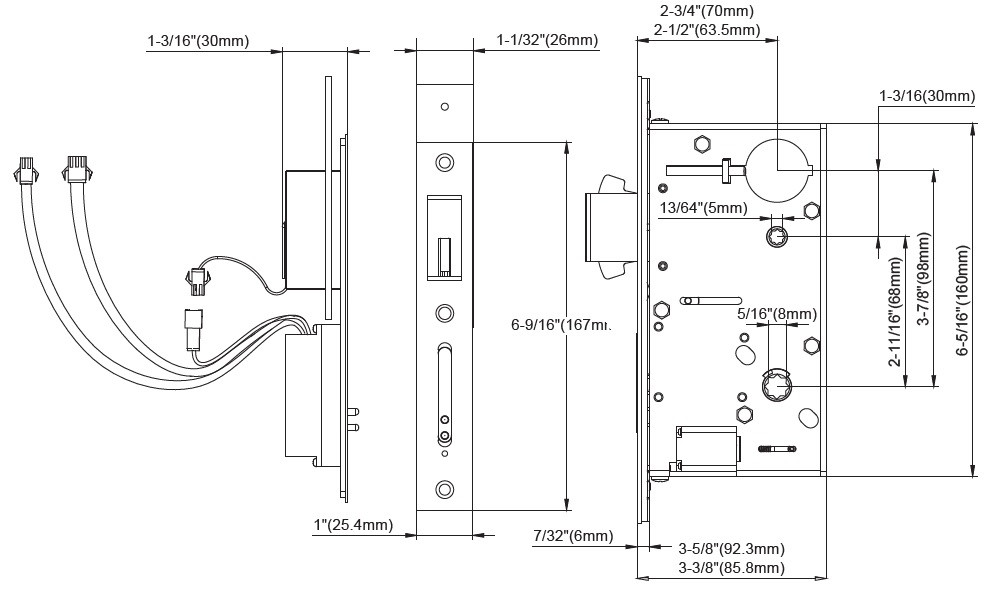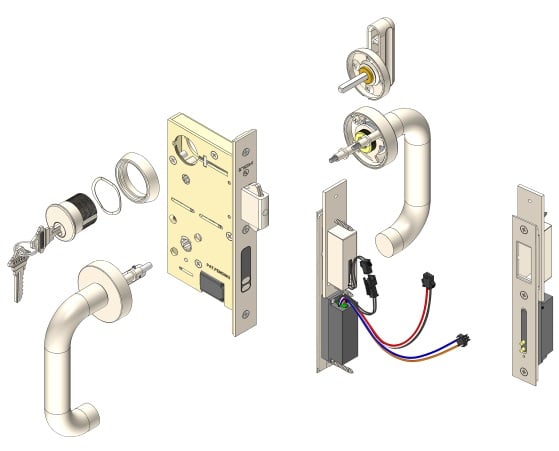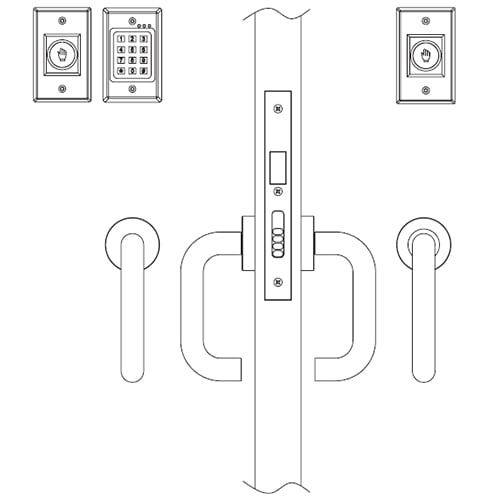 Passage - PD97ATL10
Latchbolt projected or retracted by built-in stepper motor when energized by 12/24V DC power transferred through contacts on lock and strike
Both levers active at all times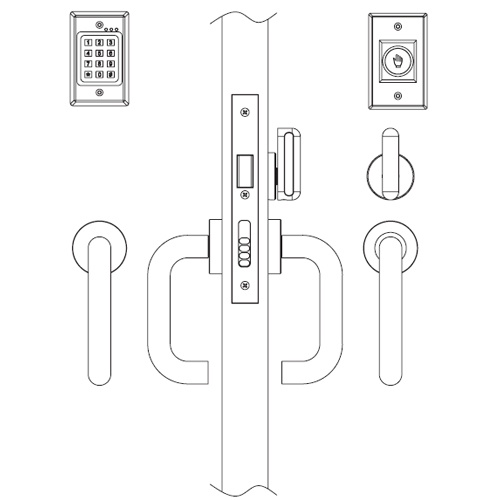 Patio/Exit - PD97ATL60
Deadbolt projected or retracted by built-in stepper motor when energized by 12/24V DC power transferred through contacts on lock and strike
Thumbturn inside throws/retracts deadbolt to lock/unlock door
Outside lever is rigid at all times
Inside lever unlocks deadbolt for emergency egress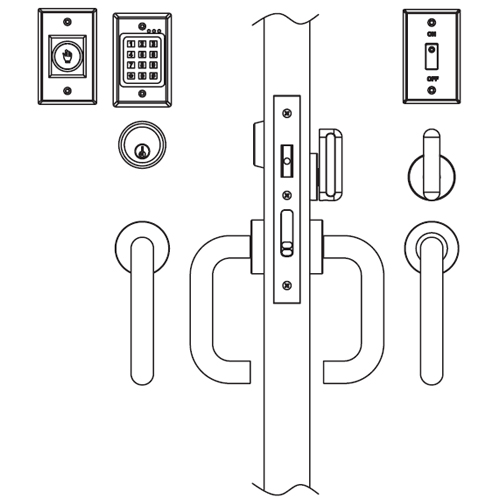 Entry/Office - PD97ATL53
Latchbolt projected or retracted by built-in stepper motor when energized by 12/24V DC power transferred through contacts on lock and strike
Insert and turn key from outside to throw/retract latchbolt to lock/unlock door
Thumbturn inside throws/retracts latchbolt to lock/unlock door
Inside switch used to activate or deactivate outside handwave; when door is locked and handwave deactivated, entrance by key only
Outside lever is rigid at all times
Inside lever always unlocks latchbolt for emergency egress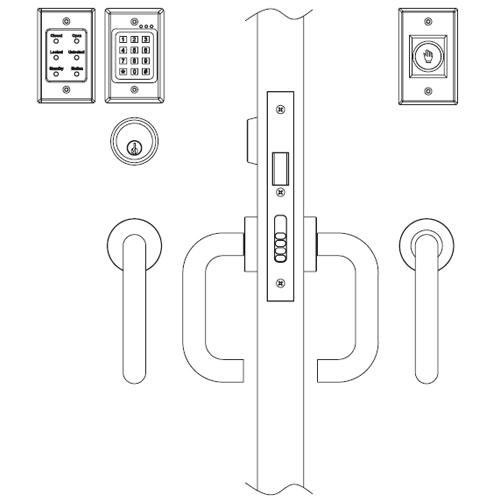 Storeroom - PD97ATL80
Latchbolt projected or retracted by built-in stepper motor when energized by 12/24V DC power transferred through contacts on lock and strike
Key from outside throws/retracts latchbolt to lock/unlock door
Door cannot be locked from inside
Outside lever is rigid at all times
Inside lever unlocks latchbolt for emergency egress

32 Bright Stainless Steel

32D Satin Stainless Steel

C19G Graphite Black

C19 CeraMax Flat Black

CDB Dark Bronze

CGY Stormy Grey