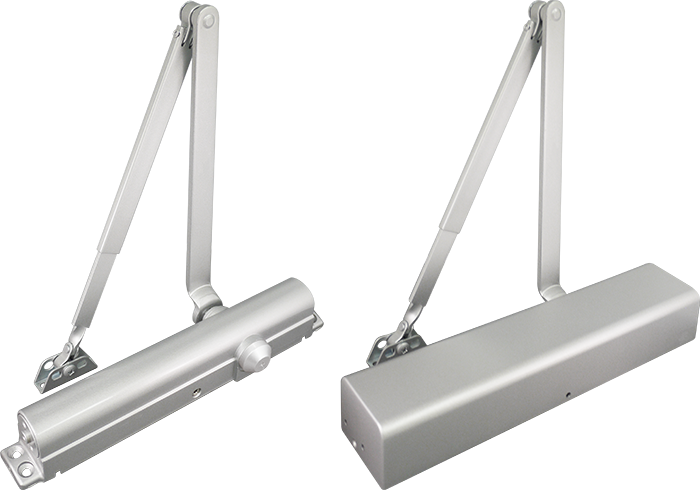 DC85 Series
Heavy Duty Door Closer
ANSI/BHMA A156.4 Grade 1
Features
Rack & Pinion operation provides smooth, constant control of door through full opening and closing cycle
Closer body cast of special aluminum alloy machined to accommodate interactive steel components under operation conditions
180° door swing when door, frame, and arm do not interfere
Sweep speed control valve allows adjustment of door speed from open door's 90° position to approximately 10° from closed position
Latch speed control valve allows adjustment of door latch speed from approximately 10° down to door's fully closed position
Includes self-tapping (SRT), sex nuts & bolts (SNB), and parallel arm (PA) bracket to allow for multiple ways to install
Adjustable back check valve provides control of door in opening cycle from approximately 75° of door opening. Valve cushions door opening when door is forcibly opened beyond its preadjusted setting
Standard cover molded from high impact materials
Adjustable through power range of 1 through 6
Confirms to opening force requirements of ADA and ANSI?BHMA standard A117.1 for interior doors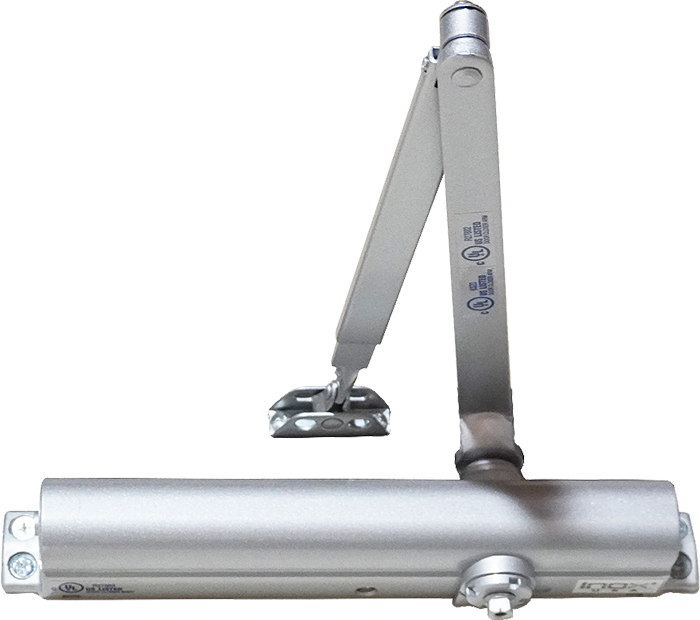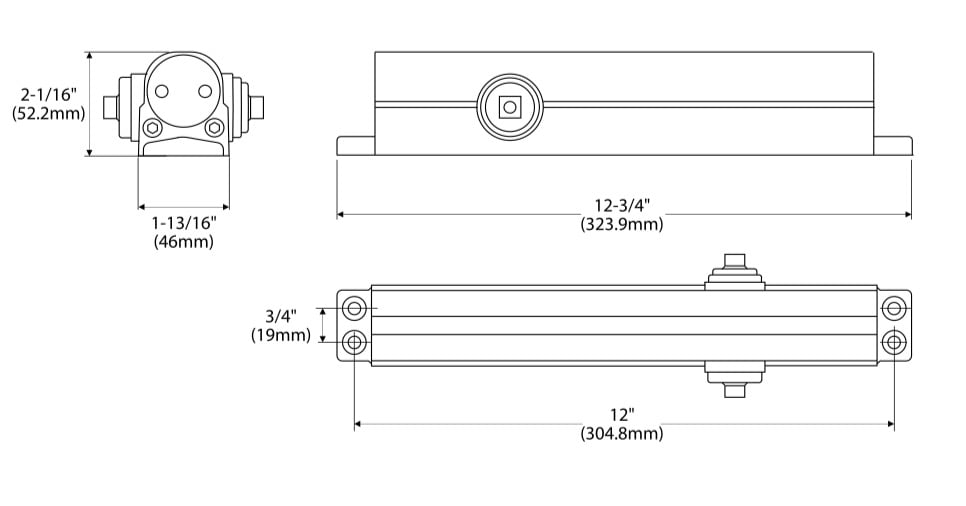 Specifications
Power Size: 1 through 6 (adjustable; ships at 3); meets ADA barrier-free requirement
Body: One piece aluminum alloy body with rack & pinion design
Pressure Valves: Separate and independent latch, sweep, and back-check pressure valves
Handing: Non-handed; can be installed on either left- or right-handed swing doors
Cover: Plastic full cover standard
Fasteners: SRT fasteners shipped standard
Piston: 32mm (1-17/64") diameter
Pinion Shaft: 16mm (3/8") diameter
Projection: 53mm (2-3/32") without cover
Door Swing: Standard arm applications with covers allow doors up to 180° swing
Compliance
ANSI/BHMA A156.4 Grade 1 Closers
ANSI A117.1 ADA Accessibility
UL Listed for ANSI/UL10B and UL10C
CAN/ULC S104 up to 3 Hours
UL228 UBC Standard 7-2 (1997) NFPA 252
NFPA 80 National Fire Protection - Fire Door Assembly
NFPA101 National Fire Protection - Life Safety
ANSI/BHMA A156.18 Finishes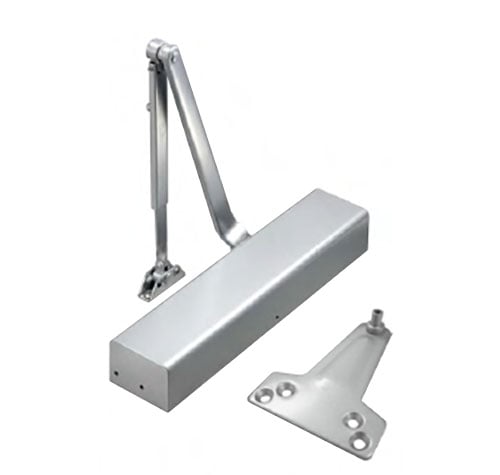 Regular / Parallel Arms
Regular arm with adjustable slider for wide range of frame conditions. Can be mounted to hinge (pull) side or top jamb.
For parallel arm, mount bracket mount on top of frame on push side of door. Frame should be reinforced for bracket.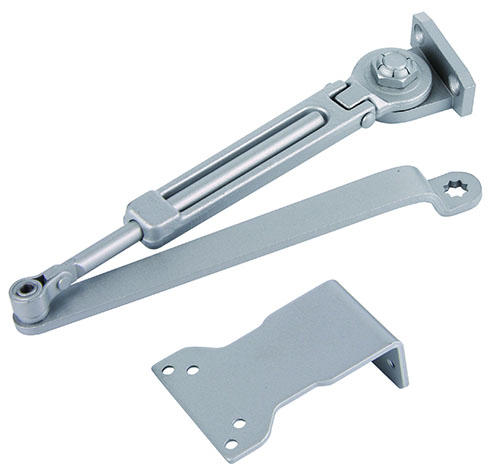 Hold Open Arm
DCAMHO
Adjustable round slide arm for wide range of frame conditions. Can be mounted with parallel bracket.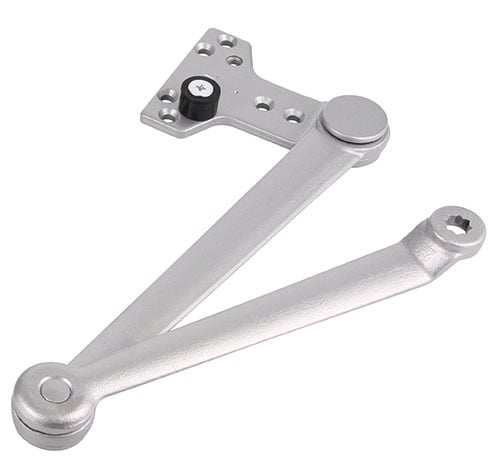 Cush Arm
DCAMCUSH
Heavy duty forged arm with cush stop, parallel arm mount. Mount using frame reinforcement in stop.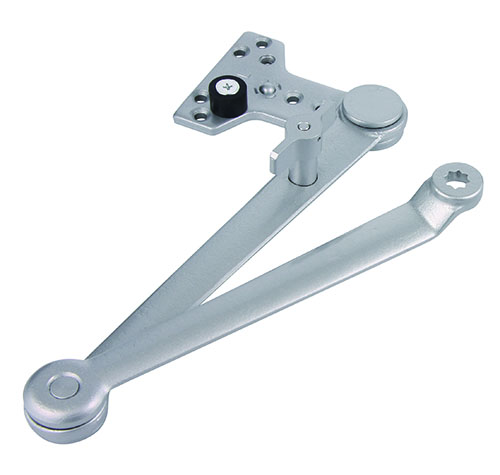 Hold Open Cush Arm
DCAMHCUSH
Heavy duty forged arm with cush stop and hold-open parallel arm mount. Handle controls hold open function. Mount using frame reinforcement in stop.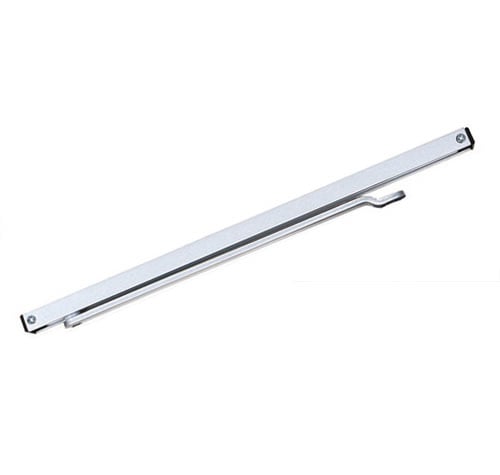 Sliding Track
DCAMST
Single lever (track) arm with surface-mounted closer for interior use on narrow-head frames and top rails. Three mounting positions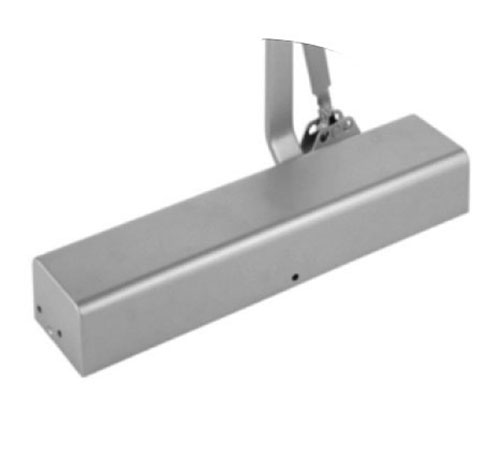 Plastic Full Cover
DCCV8SF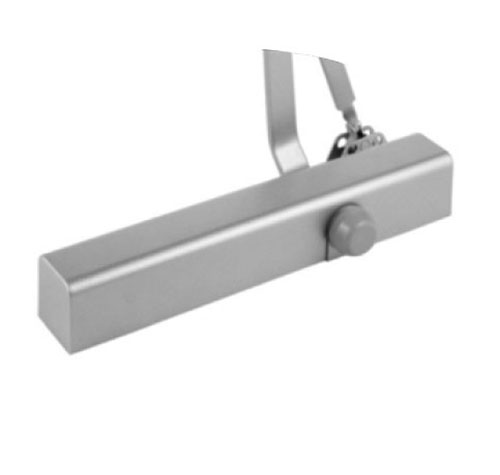 Plastic Slim Cover
DCCV855LC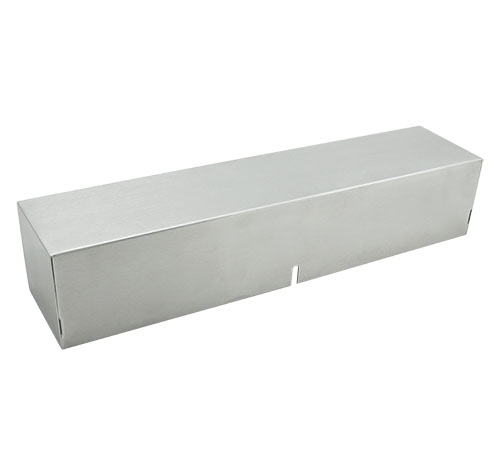 Stainless Steel Cover
DCCV85FSS
Optional Function
Delayed Action Closing
An optional hydraulic adjustable feature adds a third speed (DA) range to the closing cycle. This feature becomes effective when the door is opened and released at any point beyond 70°. The amount of time delay depends upon the angle of door release and valve adjustment. The valve can be adjusted with 4mm hex key (provided) from no delay time up to maximum delay times of: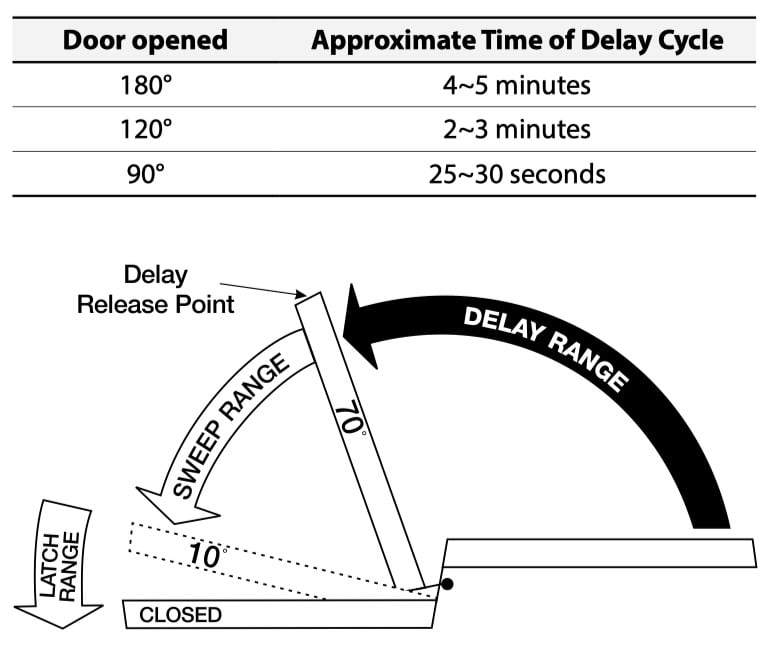 Pressure Relief Safety Valve
The (DA) hydraulic system contains a pressure relief valve. Any time the door is forced toward the closed direction while it is in the closing cycle, the valve will open and allow the door to close. This prevents damage to Closer, Arm, Frame and Door.
Suggested Applications
Delayed Action Closing allows slow-moving traffic to clear the opening before the door closer's "normal" closing cycle begins. Healthcare, Hospitals and Nursing Homes facilities all use this feature. It gives sufficient time for persons in beds, wheelchairs or on crutches to pass through an opening without concern of the door closing on them. Delayed Action closers can also accommodate openings with movement of food service carts, hand trucks, and pallet jacks.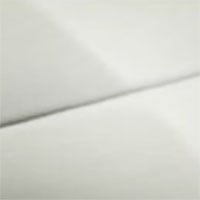 AL
28 Aluminum Painted

DU
20 Duro/Dark Bronze Painted

19G
Graphite Black
Not all finishes are standard with each door closer. Custom finishes may be available with MOQ and extended lead times.