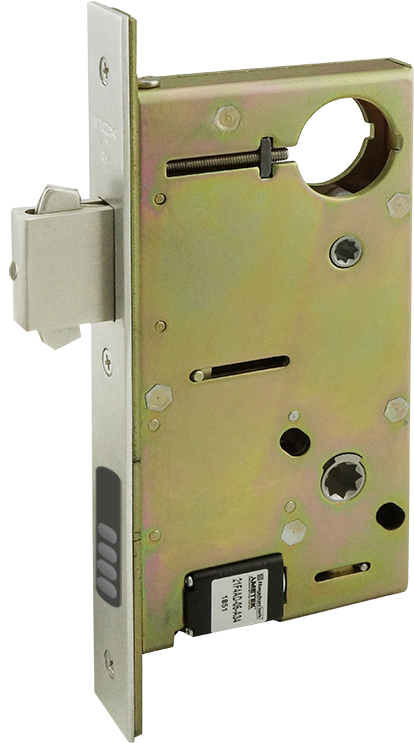 PD97ES
Electrified Mortise Lock with Monitoring Switches
Sensor-controlled electrified Grade 1 mortise lock for sliding doors sends automatic signals that engage or retract bolt
Features
Built to easily integrate into all standard access control systems and monitoring terminals, the Grade 1 PD97ES uses REX, DBM, and DPS sensors that interact with any access control system on the market, allowing monitoring panels at every opening for extra security at crucial access points. The PD97ES is suited for a wide range of applications including but not limited to hospitality, healthcare, commercial, office, and residential.
Meets ANSI A117.1 Accessibility (ADA Compliant) and UL Standards for UL294 (Safety Access Control System Units), UL1034 (Safety Burglary-Resistant Electric Locking Mechanisms) and UL1784 (Smoke and Draft Control Door Assemblies).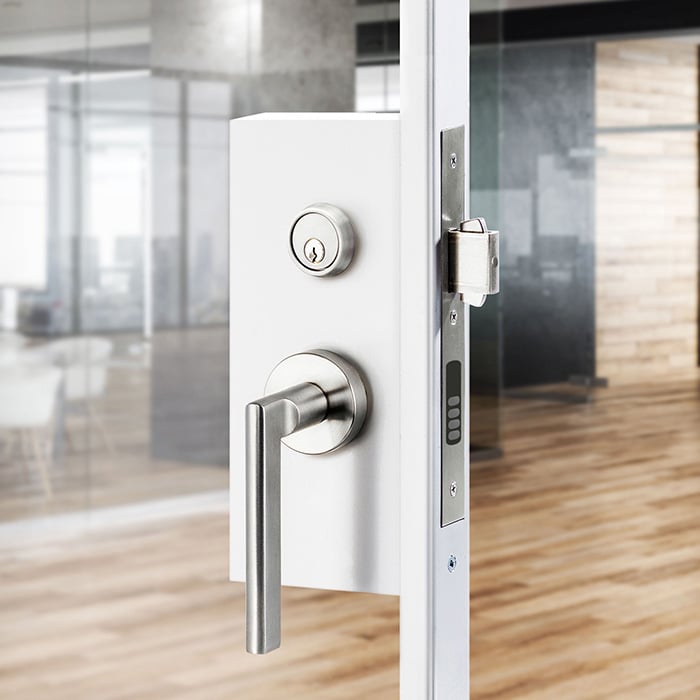 Specifications
Standard Door Thickness: 1-3/4" (45mm) Standard
1-3/8" (35mm) with Thin Door Kit
2" to 2-1/4" (50mm to 57mm) Thick Door Kits available
Backset: 2-3/4" (70mm) and 2-1/2" (63.5mm)
Lever to Cylinder Center to Center: 3-7/8" (98mm)
Lever to Thumbturn Center to Center: 2-11/16" (68mm)
Handing: Specify handing
Cylinder: Schlage C keyway 6 pin 1-1/4" mortise with 2 keys; optional SFIC and LFIC housing and cores available
CAM: CAM01-SCL Clover Cam
Electrical Specifications
Voltage: 12/24V DC
Max Voltage: 560 mA (lock body), 40 mA (strike)
Compliance
UL1034 Burglary-resistant Electric Locking Mechanisms
UL294 Standard for Access Control System Units
ANSI/BHMA A156.25 Electrified Mortise Locks
ANSI/BHMA A156.18 Finishes
ANSI A117.1 ADA Accessibility

Powered from the wall to the strike with a low 12/24 volt DC current, the PD97ES makes installation easy.

Lock includes contacts for Door Positioning, Request to Exit, and Deadbolt Monitoring Switches.
New Access Control Solutions for Sliding Door Security (1:33)
The PD97 Series is the industry's first motor-driven, sensor-controlled mortise lock for sliding doors with true "touchless" functionality.
The ES model has an auto-locking function, as well as built-in monitoring switches for door position, deadbolt monitoring and Request To Exit.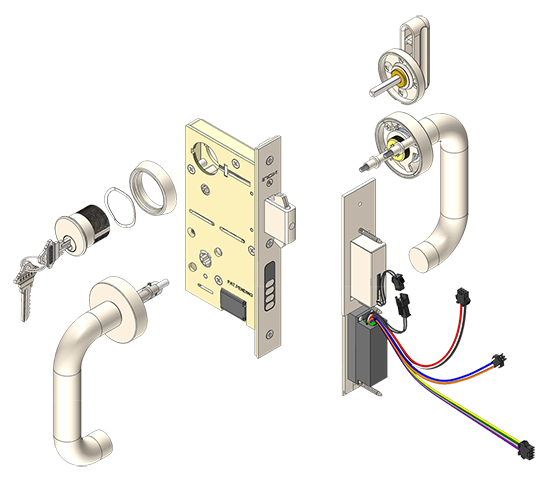 Door Position Detection

When sliding door closes, built-in door position switch (DPS triggers REX input connection to send power to the lock

Deadbolt Locked Detection

Once deadbolt is engaged in the strike, built-in Deadbolt Monitoring Switch (DMB) will check deadbolt is secured inside strike box
If deadbolt is not detected as locked, strike sends a signal to relay requesting power transfer to re-lock deadbolt

Request to Exit (REX) Switch

Sends a signal to the control panel that door is about to be opened by person intending to exit from secured area

Door Positioning Switch (DPS)

Sends a signal to control panel to monitor position of door

Deadbolt Monitoring Switch (DMS)

Sends a signal to control panel to monitor position of deadbolt

Entrance - PD97ES53
Latchbolt projected or retracted by built-in stepper motor when energized by 12V/24V DC power transferred through contacts on lock and strike
Key from outside to throw/retract latchbolt to lock unlock door
Thumbturn inside throws/retracts latchbolt to lock/unlock door
Outside lever is rigid at all times
Inside lever always unlocks latchbolt for emergency egress

Storeroom - PD97ES80
Latchbolt projected/retracted by built-in stepper motor when energized by 12V/24V DC power transferred through contacts on lock and strike
Key from outside to throw/retract latchbolt to lock/unlock door
Door cannot be locked from inside
Outside lever is rigid at all times
Inside lever always unlocks latchbolt for emergency egress

Patio/Exit - PD97ES60
Deadbolt projected/retracted by built-in stepper motor when energized by 12V/24V DC power transferred through contacts on lock and strike
Thumbturn inside throws/retracts deadbolt to lock/unlock door
Outside lever is rigid at all times
Inside lever always unlocks deadbolt for emergency egress

32 Bright Stainless Steel

32D Satin Stainless Steel

C19G Graphite Black

C19 CeraMax Flat Black

CDB Dark Bronze

CGY Stormy Grey