ProjectsCartier New York Headquarters
653 Fifth Avenue
New York, New York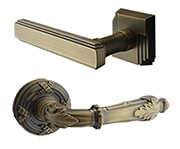 Inox Product Used:
320 Art Deco, 321 Louis Levers
In recognition of and tribute to Cartier's celebrated history, which includes credit for incorporating Art Deco style into jewelry in the early 20th century, Unison Hardware created custom Art Deco and Louis levers that match the timeless splendor of Cartier itself.
The fabled House of Cartier was founded in Paris in 1847 and is world-renowned for craftsmanship, beauty, and precision in jewelry. Cartier's illustrious history includes official appointments to King Edward VII, King Alfonso XIII of Spain, King Carlos I of Portugal, Tsar Nicholas II, and other royal luminaries. Cartier also created Grace Kelly's engagement ring for her betrothal to Prince Rainier of Monaco, and which Miss Kelly wore in her final film, High Society.
Cartier's New York headquarters on Fifth Avenue is a Neo-Renaissance gem built as a private home for a railroad baron in 1905 and acquired by Cartier in 1917 for $100 cash and a double-stranded bead necklace valued at $1 million. Using our custom design/build capability, we worked with Cartier to preserve the traditional hardware that fit and enhanced the building's overall architectural styling.