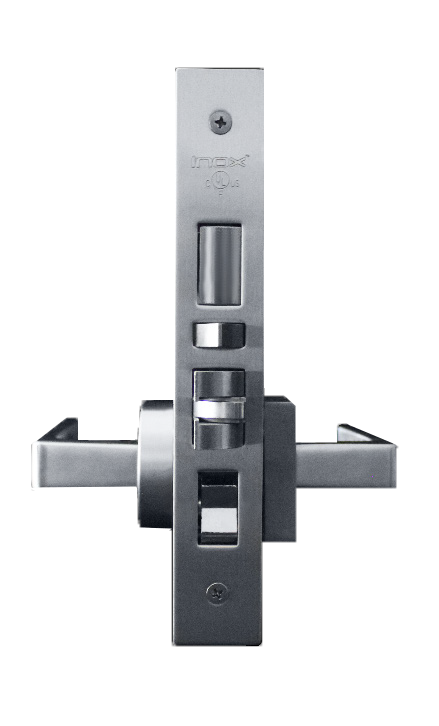 MC7000 Series
Mortise Locksets for Swing Doors
Heavy Duty, Grade 1 fire-rated locks that will provide security, and long-life operational functionality for your toughest projects
Features
Engineered to exceed 1 million cycles testing for high traffic applications
Built with heavy-duty stainless steel components and lock body
Auxiliary latch provides extra security by deadlocking when door is closed
Emergency egress in case of crisis
UL listed for 3 hour fire doors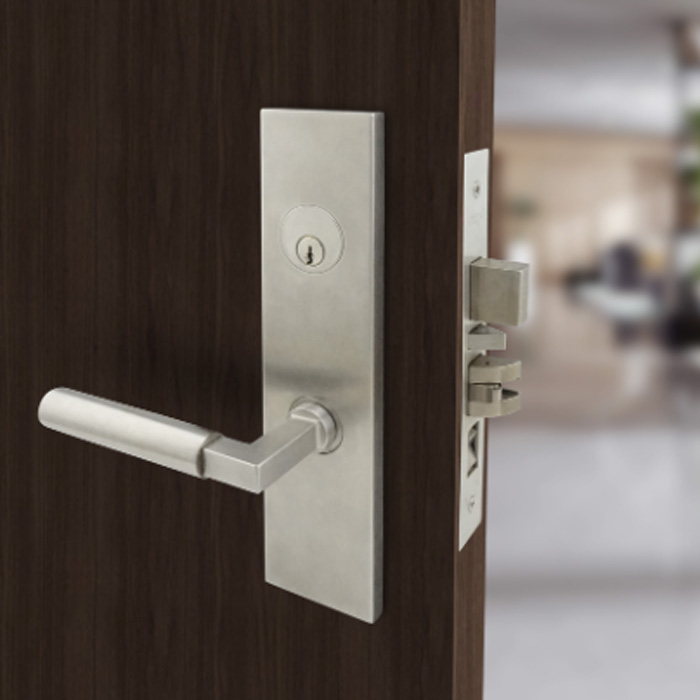 Specifications
Standard Door Thickness: 1-3/4" (44.5mm)
Thick Door Kits available
Backset: 2-3/4" (70mm)
Bolt: 1" (25.4mm)
Latchbolt: 3/4" (19mm) throw with anti-friction
Lever Spindle: 8x8mm square
Thumbturn Spindle: 5x5mm square
Case Size: 4" x 6-1/16" x 15/16"
(102mm x 154mm x 24mm)
Lever to Cylinder Center to Center: 3-7/8" (98mm)
Lever to Thumbturn Center to Center: 2-11/16" (68mm)
Handing: Specify handing
Lockcase: Field reversible without disassembly
Cylinder: Schlage C keyway 6 pin mortise with 2 keys
Optional keyways, keying services, and IC cores available
Compliance
ANSI/BHMA A156.13 Grade 1 Mortise Locks
UL Listed for 3 hour fire doors
CAN/ULC S104 up to 3 hours
UBC Standard 7-2 (1997) NFPA 252
NFPA 80 National Fire Protection - Fire Door Assembly
NFPA101 National Fire Protection - Life Safety
ANSI/BHMA A156.18 Finishes
ANSI A117.1 ADA Accessibility
Electrification: ANSI/UL634, ANSI/UL294, ANSI/UL10C

The Luxury of Choice
MC7000 Mortise Locks are available with any of our nine INOX X Series Levers for X Series roses or any of our 30 INOX Designer Levers for LA or SF escutcheons

Engineered Beautifully
MC7000 lock and lever assemblies are constructed INOX tough to withstand in excess of 1000 lbf-in. (113NM) torque in locked position, more than twice the designation for "High Grade" (450 lbf-in.)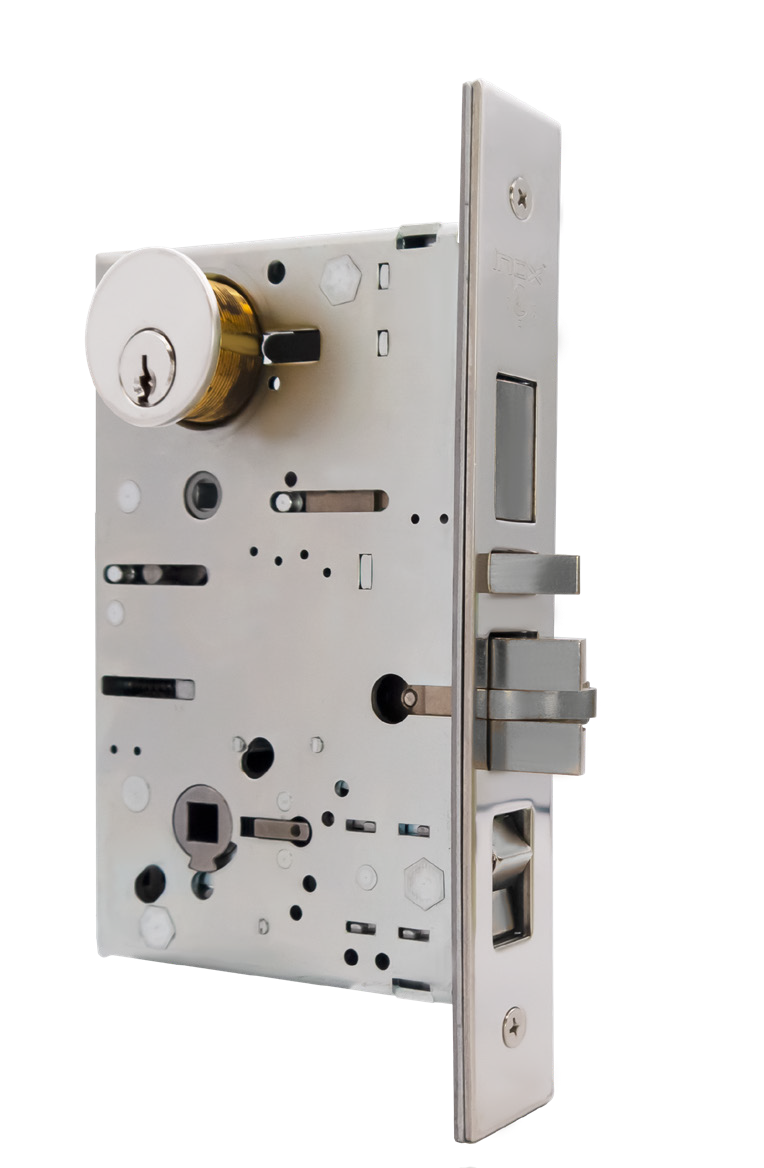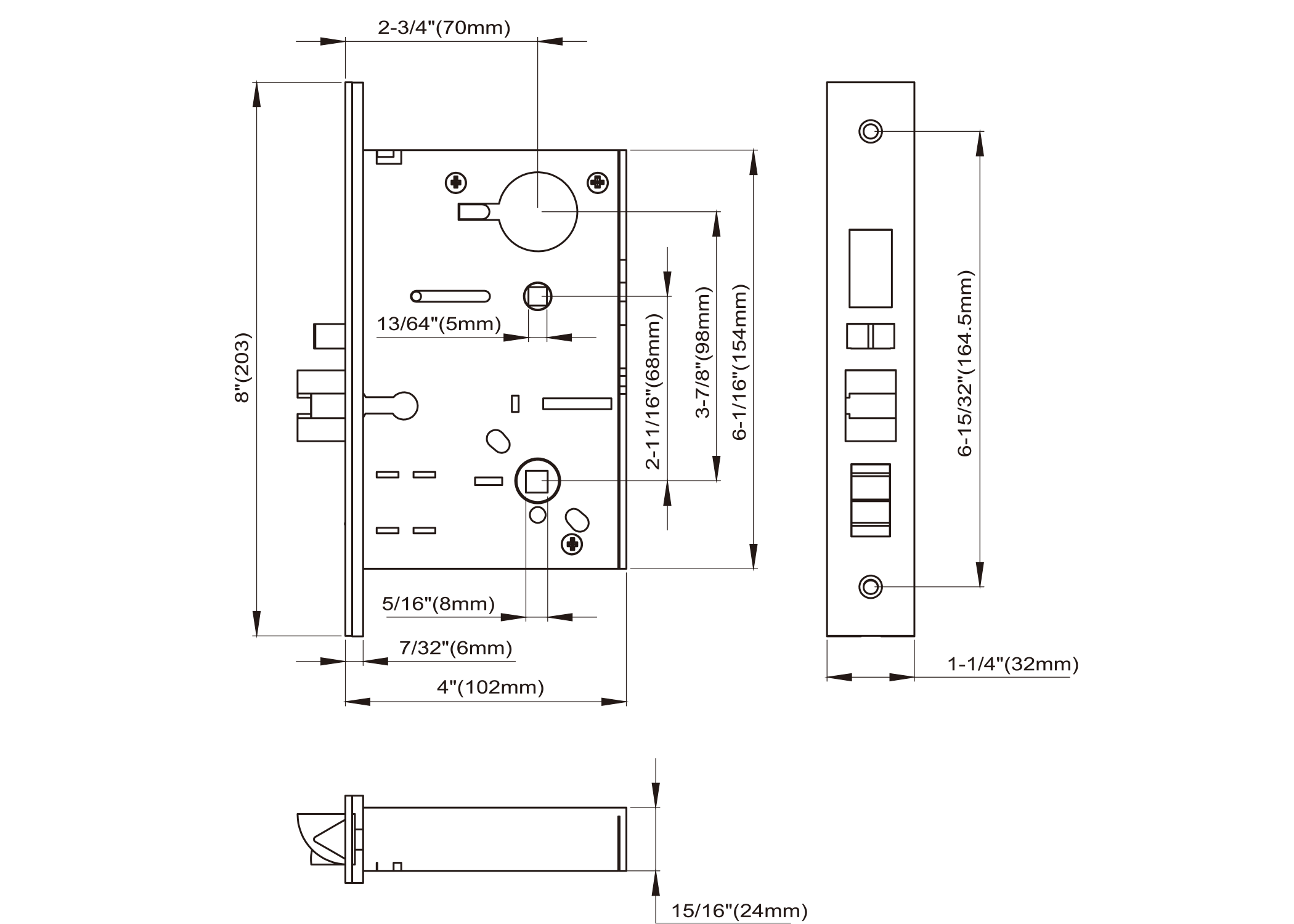 Rehanding an MC7000
INOX Mortise locks will be shipped handed, but in the field, if the necessity arises their versatility and easy-to-install design makes it a snap to rehand. See video for example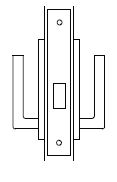 Passage - 7010 (F01)
Non-keyed
Outside and inside levers are always unlocked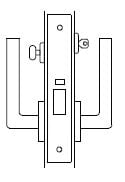 Office or Inner Entry - 7050 (F04)
Latchbolt operated by either lever unless outside lever locked by key outside or thumbturn inside
When outside lever is locked, latchbolt can be retracted by key outside or lever inside
To unlock outside lever, use key outside or thumbturn inside
No deadbolt; auxiliary latch deadlocks latchbolt
Inside lever allows emergency egress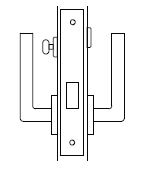 Privacy - 7040 (F22)
Non-keyed
Inside thumbturn locks and unlocks outside lever
Release slot outside in case of emergency
Inside lever is always unlocked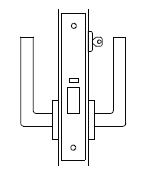 Classroom - 7070 (F05)
Key outside locks and unlocks outside lever to operate latchbolt
No thumbturn inside
Inside lever allows emergency egress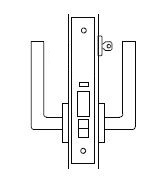 Office or Inner Entry - 7053 (F04)
Latchbolt operated by inside lever or key outside
Outside lever is always locked unless toggle manually set to unlock outside lever, allowing access from outside
Using key to lock or unlock latchbolt will reset toggle to locked position and lock outside lever
When door is locked, auxiliary latch deadlocks latchbolt; no thumbturn or deadbolt
Inside lever always allows emergency egress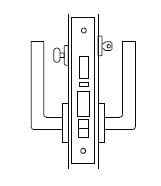 Entrance - 7453 (F20)
Latchbolt operated by inside or outside lever unless outside trim is locked by key outside, thumbturn inside, or toggle
When outside lever is locked, latchbolt retracted by key outside or lever inside
Toggle always in locked position unless manually changed to unlock
Locking deadbolt by thumbturn or key resets toggle to locked position
Inside lever always allows emergency egress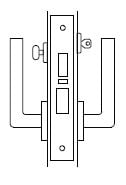 Entrance without Toggle - 38
Key outside or thumbturn inside locks/unlocks outside lever
Outside lever freewheels when deadbolt is locked
Inside lever always allows emergency egress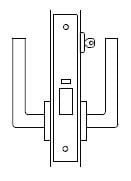 Storeroom - 7080 (F07)
Key from outside locks and unlocks latchbolt
Outside lever is always inactive
No thumbturn inside
Inside lever allows emergency egress
Grade 1 cast stainless steel trim designed for mechanical strength without sacrificing beautiful design. Includes ADA-compliant options.
Enable your privacy functions with design options and indicator windows. ADA options available.
Finishes
Standard Finishes

32 Bright Stainless Steel

32D Satin Stainless Steel

10B Oil Rubbed Bronze

C19G Graphite Black

C19 CeraMax Flat Black

CDB Dark Bronze

CGY Stormy Grey
Not all finishes are standard. Custom finishes including CeraMax are available with MOQ and extended lead times.